Fort Lauderdale Car Service – Boca Raton – Miami FL
Fort Lauderdale Car Service – Boca Raton Car Service

For a fast response,  please click our quick reservation quote form above. (Your email and personal information will be kept safe.
Reserve now! Prices Start At $60! Call us now:
Looking for Fort Lauderdale car service and Boca Raton car service, One that really delivers?  BocaLux Limo has the excellent service, experienced drivers, and luxury sedans super shuttles  you are looking for with no hassle, guaranteed.  When traveling to and from your destination. Our company offers you three important luxuries that can only be found in the best of transportation businesses: exact punctuality, increased comfort, and impressive style.  With a wide variety of South Florida car service options to fit your individual needs, including Car Service Boca Raton Car service Fort Lauderdale, and more, BocaLux Limo is not only designed to be impressive, but affordable, convenient and stress-free as well.   We deliver the celebrity-level comfort and look you want and deserve in Boca Raton.
Car Service Fort Lauderdale  and Boca Raton; SUV Limos, Luxury Sedans and Private Super Shuttles
Our fleet of executive SUVs, super shuttles, and luxury sedans are sleek and stylish, and eliminate the stress of travel in between destinations.  Enjoy the top-quality amenities on board as you check emails with our on demand Wi-Fi, take a comfortable rest and allow our expert drivers to get you safely where you need to go.  Whether you are looking for an elite transfer vehicle like an SUV Limo, or just need a dependable Airport shuttle that can give you some privacy, BocaLux Limo has the perfect car service boca raton and fort lauderdadle option for you.  These options include:
Stress-Free Transfer at a Competitive Price
Here at BocaLux Limo, we are completely confident that our dependable staff, professional service and beautiful fleet will be just what you need to complete your travel with the comfort and peace of mind you deserve.  Getting started is easy.  Discover how competitive our pricing instantly is by calling us or filling out this simple online reservation form.  Immediately, you will receive a fair quote on the services you choose.  Don't forget to join our mailing list to get more information and special offers as well.  We look forward to helping you travel in luxury.
FORT LAUDERDALE CAR SERVICE – BOCA RATON
BRAND NEW AUDI A8L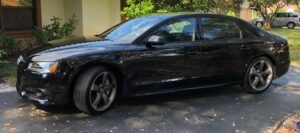 Call – (561) 948 – BOCA     (561-948-2622)